Golden Flower Brick, 2014 Special, Tea Master Su Shumei, Liupao Village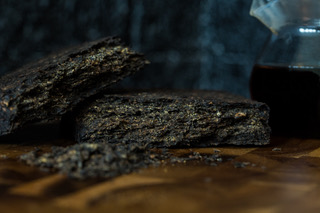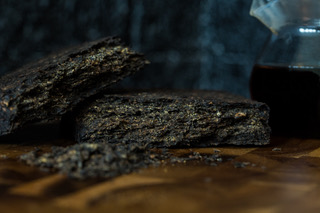 Golden Flower Brick, 2014 Special, Tea Master Su Shumei, Liupao Village
Aroma/Color/Taste: This wild grown dark tea is smooth and rich with a light sweet nutty flavor and after taste with scents of earth. The color is a deep reddish brown and deepens with each infusion.
This is a gem. A beautiful tea. From tea trees growing wild for over 100 years high in the mountains in very rich soil. This gives this tea its richness and depth of taste.
In China this golden flower tea is rated higher than puerh teas. It takes its name from the yellow speckles of beneficial bacteria that present itself through fermentation.
Location: High in the mountains amongst the streams where the sunshine is short with year round mist and fertile soil. Liupao Village, Wuzhou City, Guangxi Province in southern China.
Made by: Tea Master and owner, Su Shumei
Brews & Steeping: Bring the water to a rolling boil. Wait for the bubbling water to settle. Pour off the first infusion to open the leaves. For first drink, infuse for 3 seconds, pour and enjoy. This tea can make 10-15 infusions. Increase steep time only slightly longer as you reach the final infusions. You'll know by the color and taste of the tea, when it has been exhausted. We recommend using a small thick clay teapot and spring or filtered water. Fill about 1/3 of your teapot or gaiwan with the leaves.
Our teas are packed and shipped with eco friendly packaging.
Need a different size? Please contact us to see what's available.